Templates can be created from any html source of Joomla!, WordPress or Html templates e.g. Themeforest. Generally most CMS websites incorporate 3 different types of page to display single articles/posts, lists of articles/posts in a category or a list of categories. Each of these may have modules/widgets displayed in different positions/locations.
Using WordPress Avril theme as an example the theme consists of two distinct page types. The homepage which displays the list of latest posts and a page for displaying a single WordPress page. It includes an option for a right-hand sidebar which can be used to display a tags widget and incorporates a drop-down menu.
To replicate this theme in YouDoCMS we need to create two templates. One for the list page and the other for the single page. If you want to hide the sidebar then you will need to create a version with the sidebar hidden.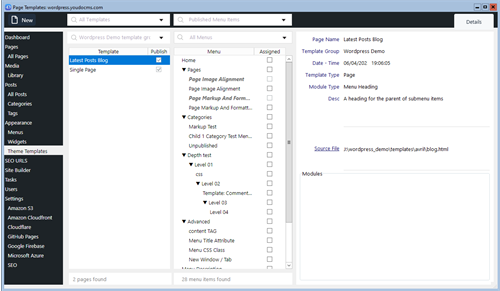 Enter a name for your resource group (this can be anything).
Enter a name for the storage account. This will be associated with the resource group so it makes sense to relate the two names.


In your azure portal you will now see the newly created resource group plus the bucket and cdn endpoint.

.